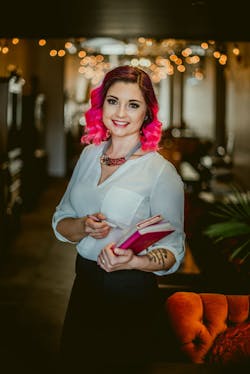 Trendy meets clever, with a fierce sense of loyalty; Jazmin LaFramboise is not your average Realtor. Her rare blend of fashion sense, intellect and humour offer a unique approach to the world of buying and selling homes. Her quirky videos and love for social media have given her an edge in an ever-evolving online marketplace. Jazmin is an active member of her community, staying in the loop with the social and economic concerns of her clients. Knowing that both buying and selling a home is a big step for anyone, she is great at walking alongside clients throughout the process, informing their decisions and offering support that consistently surpasses expectations.
As a resident of the TRI Region for over thirty years her local knowledge is vast. She has lived in the region her entire life and now calls Spruce Grove home with her husband and their adopted daughter. They enjoy the fun family events hosted by the city throughout the year, and the safety a small city provides them.
Recipient of both the Executive Club and Volunteer Award at RE/MAX River City in 2017 Jazmin is focused on pursuing excellence while serving others. 2018 marked a new milestone as Laframboise joined the RE/MAX 100 Club.
Offering her time to the Parkland Pregnancy Support Centre is one of the ways she assists families in her local community. Her passion for families is evident as she also volunteers with the Floriana Project in Haiti, which aims to keep families together through job creation initiatives.
Consistently pursuing mentorship in the field, Jazmin is a top negotiator. She is focussed on getting the best deal for her clients while making the whole journey a positive and memorable experience.